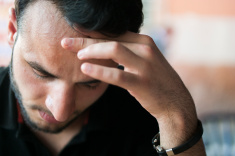 Do not let the behavior of others
destroy your inner peace – The Dalai Lama
So many times clients contact me for help about the behavior of their former spouse or partner.
Thousands of dollars in legal fees and costs are spent each year by parties who just want to feel at peace again in their lives.
They may believe that forcing their ex to change his or her behavior towards them will make them feel better or improve their lives.
They file requests with the court to demand that their ex change.
In some cases, the other person is well aware of the pain they are causing to their former spouse/partner. Their conduct may be calculated to create distress and push buttons, as a form of retaliation for circumstances surrounding the breakup of the relationship, or as a calculated maneuver to reach a goal in the division of marital property or child custody or support.
Other times, this person has moved on and is completely oblivious to the pain of the other party.
Regardless of the reason, you do yourself no favors by dwelling on the conduct of this other person and in fact, will likely cause yourself to incur substantial additional legal fees and costs chasing the dream that one day there will be a substantial change in their behavior towards you.
You must look for a way to find your own inner peace and realize that many more have come this way before you and have survived and even thrived in their new lives.
This is attorney advertising.
Licensed in California.